Welding is the primary technology for joining metallic materials. It is difficult to imagine the economy of an industrialized country without welding as it is crucial to many industries. The period of the beginning of development of welding and production of welding equipment in our country is associated with the establishment of the Joint Stock Company PERUN in 1910 . PERUN was the first to organize the production of gas welding equipment and fittings associated with the production and use of industrial gases. The company introduced pioneering technologies, an example of which was the execution in 1929-1930 of the first in Europe welded construction with a weight of 700 tons – the PKO building in Świętokrzyska Street in Warsaw. Also, the world's first bridge with a welded structure on the river Słudwia near Łowicz, – now classified as a monument class "0" – was made by welders of "PERUN".
By working closely with our customers and accumulating in-depth knowledge of the welding equipment market, we have built up a wealth of experience and expertise over more than 100 years of existence that enables us to offer a wide range of products and services to suit our customers. Technical services and specialists, through continuous training and information exchange, maintain the ability to quickly and effectively solve the problems posed to us by our customers. This allows us to remain a leader in the production of gas welding equipment. For many years the company has been cooperating with scientific and research centres such as Welding Institute in Gliwice and Warsaw University of Technology. This cooperation results in new technologies and products as well as modernization of the existing ones and adapting them to the latest global trends.
PERUN S. A. – is the oldest and largest manufacturer of gas welding equipment in Poland.
We offer our customers a wide range of products:
– all types of reducers for technical gases
– hand and machine torches for gas cutting
– torches for welding, heating, soldering and related processes
– metallurgical torches
– welding equipment and accessories
– semi-automatic cut-off machines for oxygen cutting
– components for torches and reducers
– we carry out repairs of self-produced equipment.
We design and manufacture to special order:
– ramps for technical gases
– torches and reducers with non-standard parameters
We sell by mail order the full range.
Company stationary and online shop offers in continuous sale:
– electric welders with equipment / at manufacturer's prices /
– cylinders for technical gases – heaters and dryers for electrodes
– compressors
– grinders
– power tools
– welding electrodes and wires
– ventilation devices
– personal protection equipment for welders.
We have a distribution network throughout the country.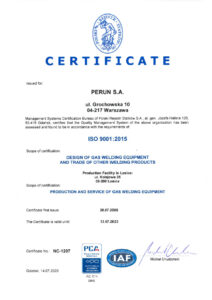 Please be informed that the PERUN S. A. products do not contain dangerous substances which according to the REACH regulation are subject to registration and information obligations in the form of a safety data sheet for receivers of the products.
President of the Management Board: Krzysztof Walarowski
Vice-President of the Management Board: Grzegorz Ambroziak
Member of the Management Board :Daniel Kostka